I've been in the mood for baking. I've had a good summer. It's been hot and now I'm ready for it to cool down. I'm ready for soups. Sweaters. Fall. Baking. So I jumped on the first chance I got to do some baking when we had a break in the weather. I whipped up two batches of zucchini muffins to see which I liked best.
These ones from gimme some oven were a winner! Her pictures are so much prettier than mine (I always have these grand intentions of using my fancy camera for the food photography on my blog-- but these days I'm just lucky if I can find a spare minute to even post a recipe!) but I think you can get the feeling from the quick picture I snapped that these turn out looking as great as they taste.
I've just recently starting baking with white whole wheat flour and have been loving it! I like being able to bake a healtheir version of some things-- like muffins. These are pretty simple and straightforward. To replace the egg, I just used water. They turned out fluffy and moist and I loved the flavor. The original recipe yields 12 muffins, but I like to kind of overfill my muffins tins to get a bigger muffin instead of a hockey puck muffin. So I only got 10 muffins out of this recipe. Hope you enjoy these as much as I did!
See? What did I tell you? Her picture: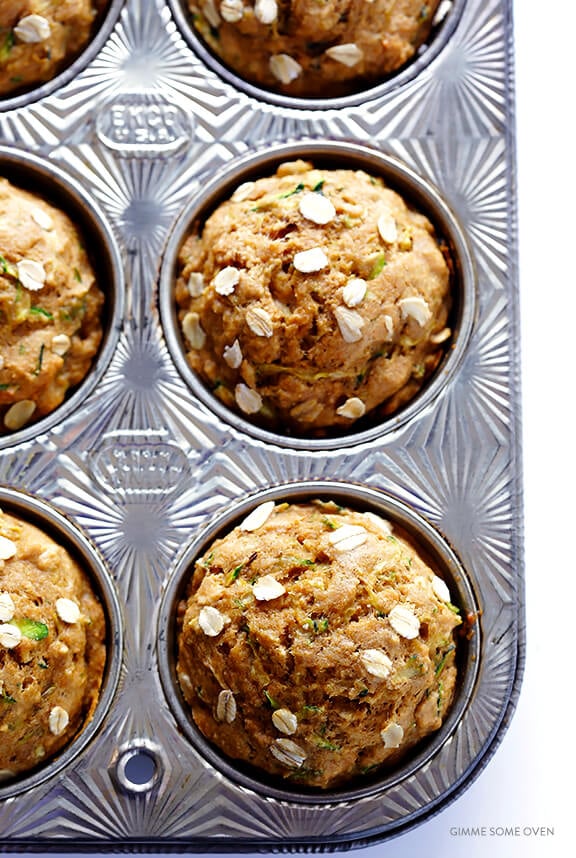 Egg Free Whole Wheat Zucchini Muffins
1-2/3 cup white whole wheat flour
1-1/2 cups shredded zucchini
1/3 cup old fashioned oats, plus more for sprinkling on top if desired
Preheat oven to 350 degrees. Line a 12 cup muffin tin with paper liners and set aside. In a bowl whisk together dry ingredients. Set aside. In another bowl, microwave butter until it is melted. Whisk in syrup, milk and water and vanilla. Add this butter mixture to the dry ingredients, stirring just until combined. Fold in shredded zucchini and oats. Measure out 1/4 cupfuls of batter into each paper lined muffin cup. Sprinkle tops of batter with additional oats if desired. Bake for 18-20 minutes or until toothpick inserted in the center of a muffin comes out clean. Remove from oven and let the muffins hang out for a minute in the pan. Then remove to a wire rack to cool completely. Yield about 10 muffins