I never thought I'd say that. I never wanted to say that. I was all anti-pinterest when it first came out but now I use it all the time. I wanted to highlight a few gems I've found. Recipes that were put in "the tried and true file". Check them out!
Have you seen this one before? Creamy Skillet Chicken and Rice from Natasha's Kitchen
Growing up, one of my favorite comfort foods was Chicken and Rice. Except my mom baked hers in the oven and used canned cream of chicken soup. I like this dish because 1- it's all cooked in the same pan 2- it comes together pretty quickly and 3- it's so delicious. Creamy, but not heavy.
*Couple of notes: definitely use chicken thighs in the recipe. And if you are like me and don't cook with wine, I used apple juice as a substitute.
One Pot Garlic Parmesan Pasta (aka my new best dinner friend) from damndelicious
Another one pot quick and easy meal THAT MY KIDS WILL EAT!! and with picky eaters like mine, that is saying something! I usually beef it up with some grilled sliced chicken. This is my go-to on busy nights when I need something quick!
Another quick and easy dinner? This Southwest Chicken Skillet from Budget Bytes comes together really quick. I usually serve it with tortilla chips.
Note: Because of my boy's allergy to legumes, I add the beans last, only for mom and dad after I've dished out the kiddos.
Ever heard of Strawberry Pretzel Jell-O Salad? I don't really do the whole Jell-O salad thing. But growing up I had my fair share believe me. This tasty Strawberry Pretzel Parfait from Diply takes the idea of the Jell-O salad and uses the flavors for a refreshing twist on a breakfast parfait. I think I ate one of these every day for like 2 weeks.
*Note: One thing I did differently was I toasted the pretzels, butter and cinnamon in the oven for like 10 minutes.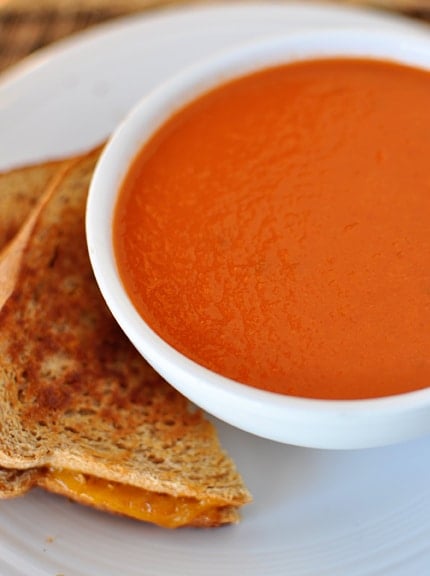 Though it's not really "soup season" right now, I love this Classic Tomato Soup recipe from Mel's Kitchen Cafe. Tomato Soup with a hot grilled cheese is yet another comfort food for me. The travesty here is that I am the only one in my house who likes tomato soup. More for me I guess. I portioned them into single servings and froze to pull out for lunches on drizzly cold winter days.
I know you've seen this one. Homemade Magic Shell? It's been around for ages but we finally tested it out last weekend. It was so fun and such a delicious touch to our ice cream cones. Two Ingredients. Super easy. Check it out at whipperberry.