St. Patrick's Day has always stumped me when it comes to food. Sure I'd dye our breakfast, or dinner, green but there's just something about eating green french toast that makes it taste... bad. I firmly believe appearance plays into taste. So my approach to St. Patrick's Day now, since I'm not a corned beef and cabbage eater, is to serve things that are already green(spinach, broccoli etc. etc. )-- or do

r

a

i

n

b

o

w

colors!! Here are some fun things that I've found on the web that I wanted to share:
Rainbow Pancakes-- I've done these before and my boy talks about them all the time. They obviously left a big impression on him. Not sure who came up with the idea originally, but I first saw the idea at The Idea Room. Just apply the technique on your favorite pancake recipe.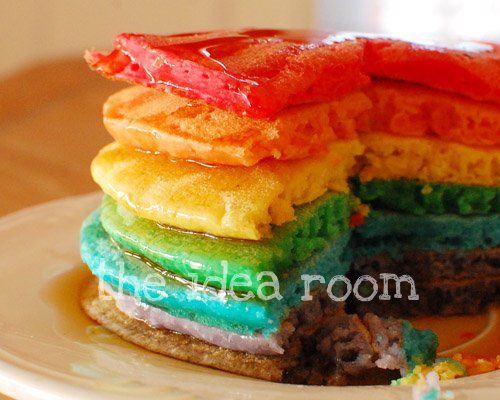 Rainbow Cake in a Jar- I totally want to try this! I find this idea via pinterest at Family Kitchen. I will probably use the vanilla cupcake recipe found with this recipe here. So colorful and fun!
*A note though, it seems whether or not it's "ok" to put canning jars in the oven is controversial. I myself am nervous of the glass cracking or breaking. Many people do it and don't seem to have any problems, but I did read somewhere that in order to do this safely, the jars need to be placed in a pan of water when you put them in the oven as dry heat would crack the jars. Haven't tried this yet myself, love the idea, but just putting that out there.
Colorburst Cupcakes- Same idea as the cake in a jar, but still one that I've been meaning to try. This recipe/ technique is everywhere, but here is one from Our Best Bites :
On the healtheir side of things, there are these cute Rainbow Fruit skewers atTablespoon:
Then if you feel lazy like you need something a little more quick and easy, stir some rainbow sprinkles into pancake or waffle batter for a rainbow "funfetti" breakfast.
A few ideas for green food:
or Burger Bun Pizzas from Cute Food for Kids: (Ya right. Like my kids would eat it. But I still think the idea is cute!)
UPDATE: Here's a few more ideas:
Lucky Charm Treats @ sweetcdesigns.com
Rainbow Treats @ Our Best Bites
Hope that sparks some ideas. It sure did for me! Happy St. Patricks Day!