Happy New Year! Can't believe it is 2013. I figured this month since most people are either starting their new years resolution diet or detoxing from the holidays, I'd post some healthier recipes. So how about tomato soup. HOMEMADE tomato soup.
I'd never cared for homemade tomato soup before, but it was all because I had the wrong recipe. I have several tomato soup recipes now and each of them I love for different reasons. This one has its appeal to me because it has a few simple ingredients, most of which you might already have in your pantry. Perfect to warm you up on these cold bleary January days. It is creamy and delicious and perfect with a grilled cheese sandwich. You can also sprinkle crushed up crackers on top or some finely grated Parmesan cheese.
Creamy Tomato Soup
1 Tbsp butter
1 small onion, chopped
Garlic salt to taste (I start out with a gentle sprinkle)
1-2 cloves garlic, minced
3 (14 oz) cans crushed tomatoes
2 Tbsp dried basil (chopped fresh basil would be delicious too if you have it)
In a large pot, sauté onion, garlic salt, and garlic in butter until translucent. Add milk, chicken broth, basil and crushed tomatoes. Simmer for 15-20 minutes, stirring occasionally. Then add cream cheese and heat until cheese is melted. Sprinkle in a teaspoon or so of sugar and combine. Check to correct seasoning. (Use a different spoon, please). If it tastes acidic and too "tomato-ey," add a little more sugar to balance out the flavor. Transfer mixture in batches to a blender, if desired, and blend to smooth consistency. (The soup is already pretty smooth, but I like to get the onions incorporated a little more.) Ladle into individual serving bowls. Garnish with freshly grated Parmesan cheese and a fresh basil leaf if you want to make it fancy. Or serve along side a hot and gooey grilled cheese sandwich (mozzarella grilled cheese sandwiches are a nice change) Yield 8-10 servings
*Note- If you do not have crushed tomatoes you can try using diced tomatoes. (I've done half crushed, half diced before with excellent results) You'll want to be sure to blend it in a blender though.
P.S. Since I mentioned Grilled Cheese Sandwiches, I thought I'd share a couple different twists on a grilled cheese sandwich that I have found while spending ridiculous amounts of time

on the internet

searching for recipes.
It's all about variety. It makes things exciting.
Like Grilled Cheese Croutons from Ina Garten

from

Food Network
Genuis, Right? Because almost everyone ends up dipping their sandwich in their s

oup anyway. Or what about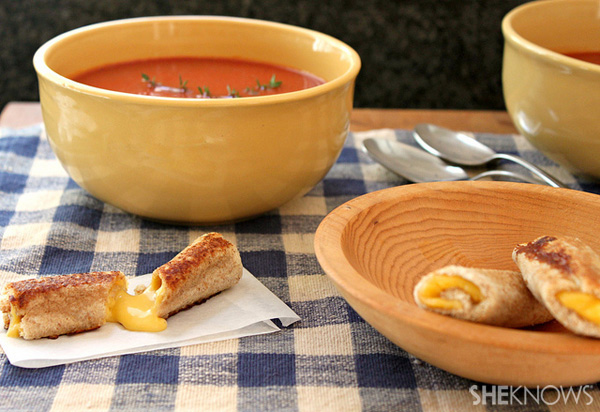 Or finally go french onion style with your grilled cheese and t

omato soup